"This hollowing out of marriage in mainstream America is among the most consequential social facts of our era. It's contributing to the growth of inequality, harming countless children, and weakening, perhaps fatally, our formerly strong middle class. And amazingly, if you listen to political leaders of both parties and opinion leaders from both the left and right, you'll discover that very few of them appear even to have noticed what's happening." — A call for a new conversation on marriage, the Institute for American Values
The Case for Asteroid Status
With the marriage rate at just over 50% (an all-time low) and  4 in 10 children born to unmarried parents (an all-time high) – not to mention a substantial divorce rate – what has been the cornerstone of civil society has been fundamentally transformed with unpredictable results. Marriage – the core cooperative relationship in society – is fracturing in America, children are at risk and most people are not paying attention.

Facts
4 in 10 children in America are born out of wedlock.  In 1980, only 18.4% of children were born to single parents. That figure includes almost 30% of while children, over 50% of hispanic children and a stunning 70% of African American children.
Single parent families are more often impoverished families.
The Institute for American Values
"Marriage trends in middle America, particularly among the nearly 60 percent of Americans who've graduated from high school but do not have a four-year college degree, are more and more resembling the historic marriage trends in poor and low-income America."
There is a marriage gap in America, with marriage between the college-educated on the rise, but it's in decline with everyone else.
The overall number of married couples has declined by more than 20 percentage points since 1960 to just over 50% of adults, a record low.
Compared with children in married step families, children in cohabiting homes are more likely to fail in school, run afoul of the law, suffer from depression, do drugs, and — most disturbingly — be abused.  Click here for New York Times article.
Reading
Articles
Pew Research Social & Demographic Trends:  Barely Half of U.S. Adults Are Married – A Record Low
Atlantic: Why Is It Hard for Liberals to Talk About 'Family Values'?  (Emma Green)
Social Indicators of American Health & Well Being, the Institute for American Values and the University of Virginia National Marriage Project
2012 State of Our Unions: The President's Marriage Agenda for the Forgotten Sixty Percent, the Institute for American Values and the University of Virginia National Marriage Project
Why the Ring Matters in the New York Times, by Bradford Wilcox (Director of the National Marriage Project)
Books
Multi-media
Jonathan Haidt's TED.com Asteroids Club presentation PowerPoint slides related to family breakdown: download here.
The charts below are from The Institute for American Values.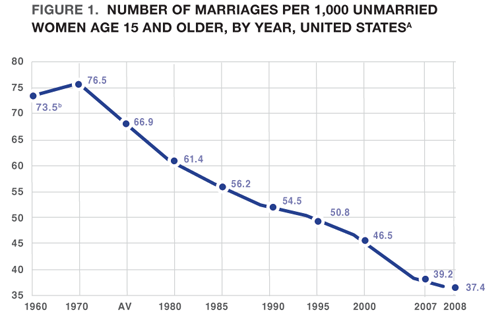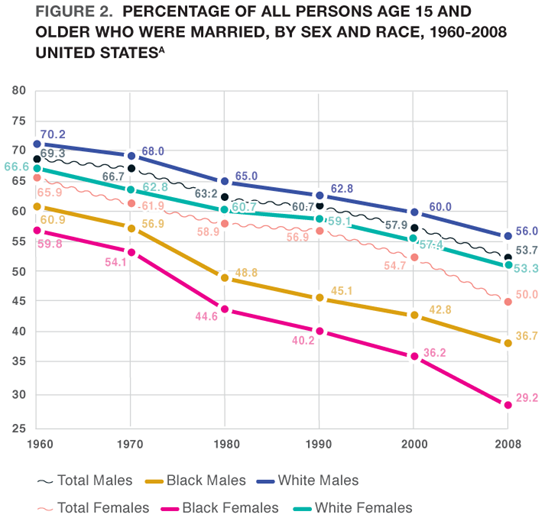 The Telescope
A closer look at the asteroid – what skeptics say, facts that weigh against this being an asteroid and important details.
Proposed Solutions
The best ideas that have been put forward.
_____________